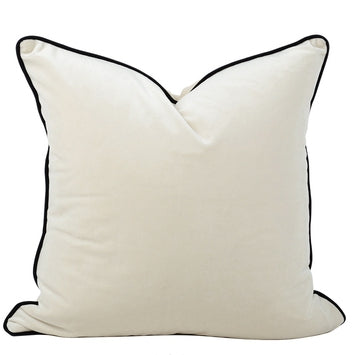 The Boulevarde Luxe Velvet Cushion Squrae 50cm - Cream White
We have run out of stock for this item.
The Boulevarde Luxe Velvet Cushion Square 50cm - Cream White
If there's one texture that will add an air of opulence and elegance to a room it has to be Velvet, but it can come off as a little intimidating, you might feel it reads too extravagant. 
How to Decorate with Velvet Cushions Like an Interior Designer?
Used wisely across interiors, velvet will be your go-to fabric for creating a high-style look.
If you love the look of velvet you don't have to go all dramatic and dark, it works really with softer colour palettes and contrasts beautifully with other textural fabrics such as pure French linen, block print cotton, mud-cloth, and Moroccan handcrafted fabric.
Macey & Moore, a leading pure French linen and soft-furnishing supplier, proudly launch The Boulevarde Velvet Cushion Collection, why would you shop over-priced piece anywhere else?
Feature
 Care Instruction
Warm gentle hand wash.

Do not iron.

Do not tumble dry.

Dry flat.

May be dry cleaned.